FIRE EXTINGUISHER RECYCLING
Why is
fire extinguisher recycling
essential specially is they're old and/or expired ?
The expiry of a fire extinguisher can be caused by several factors, such as the useful life of the device (which is usually 20 years) or its effectiveness and safety in use. It is essential to bear in mind that the use of expired or malfunctioning extinguishers can be dangerous for both people and the environment.
When a fire extinguisher is not in optimal working condition, there is a high risk that it will fail at the moment of need, which can endanger people's lives and safety. In addition, an ineffective extinguisher can allow a fire to spread more quickly or make it more difficult to control, increasing the risk of damage to property and personal injury.
That is why it is essential to recycle expired extinguishers responsibly.
Why recycling your old and/or expired fire extinguishers with us?
At Llorens Isbert, we have been recycling fire extinguishers and handling various types of fire-fighting equipment for more than a decade, thanks to the fact that we have worked with numerous prestigious companies and experts in fire-fighting systems, managing their expired extinguishers. Our aim is to ensure safety and sustainability in the management of this type of waste.
Regardless of their condition, we accept all types of expired fire extinguishers at our facility for recycling. We work with special containers designed to recycle the different types of fire extinguishers, whether they are water, chemical powder, foam or CO2, and we ensure that the recycling process is carried out in accordance with environmental standards and regulations. For this we have an environmental licence and we are inspected every year by the ARC (AGENCY OF WASTE OF CATALONIA).
It is important to bear in mind that each type of extinguisher is designed to fight different types of fire. For example, water extinguishers are effective against class A fires, which involve combustible materials such as wood or paper. On the other hand, CO2 extinguishers are suitable for Class B fires, which involve flammable liquids such as gasoline or oil. Knowing the different types of extinguishers and their proper use is crucial for an efficient and safe response in case of fire.
In short, at Llorens Isbert we are dedicated to the management of expired fire extinguishers and offer recycling services to ensure safety and sustainability in waste management. We accept expired fire extinguishers from anywhere in Spain and Europe, ensuring their correct management by promoting recycling.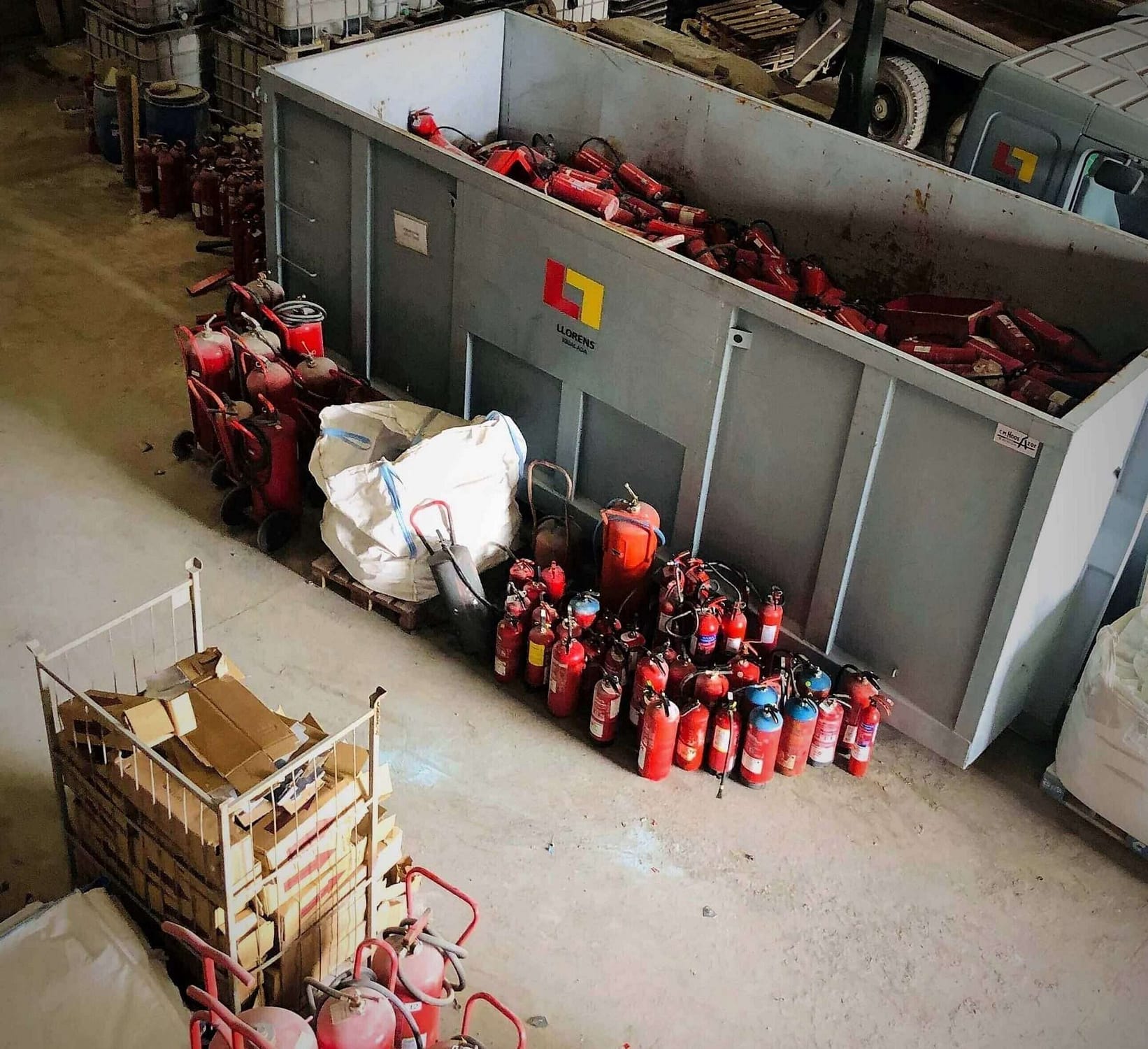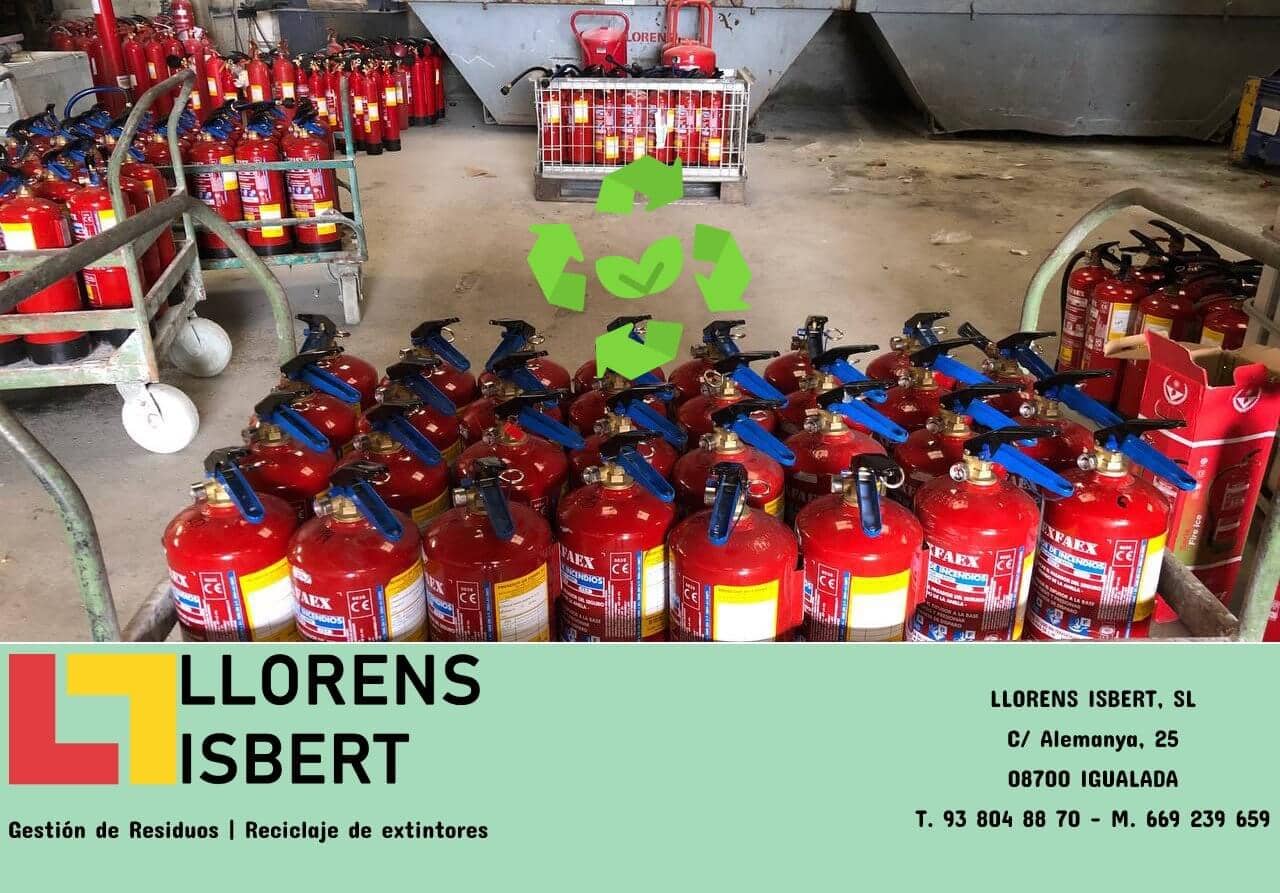 Advantages of recycling fire extinguishers if you are a fire-fighting company
6 great advantages of recycling fire extinguishers with Llorens Isbert:
1. Additional service opportunity:
By offering the service of recycling expired fire extinguishers, fire fighting companies can provide added value to their customers, expanding their range of services and strengthening the business relationship.
2. Recycling at no cost:
At least 90% of the fire extinguishers collected can be recycled at no additional cost to fire companies, representing significant savings in terms of waste disposal.
3.Contribution to the circular economy:
By recycling expired fire extinguishers, you promote the circular economy by reusing materials and minimising the extraction of natural resources.
4. Regulatory compliance support:
Recycling expired fire extinguishers supports compliance with legal and regulatory requirements related to the proper management of hazardous and non-hazardous waste, which can facilitate obtaining ISO certifications, passing inspections and audits successfully.
5. Professionalism and expertise:
By recycling expired fire extinguishers through a specialised and experienced company in the field, our customers can be assured that fire fighting equipment is treated properly and in compliance with safety and environmental standards.
6. Transparency in the recycling process:
Customers can rest assured that expired fire extinguishers are recycled by a company that operates with full transparency in the process, providing detailed information to the Waste Agency on how the recycling is carried out and what measures are taken to protect the environment.
---
How to recycle expired fire extinguishers according to Llorens Isbert?
---

1. The first step is to remove the extinguishing agent (ABC powder, water, foam, CO2…) with the help of a special machine, it is very important to make sure that the extinguishing agent does not continue to be expelled.

2. Once the extinguisher is depressurised, its components (hoses, tubes, shell, etc.) are dismantled, separated and classified.

3. Finally, the remaining extinguishing agent is removed and the tank is left in a 100% recyclable state.

4. In order to complete the recycling process, we carry out and send the fire extinguisher recycling certificate.
---
What types of fire extinguishers are recycled at Llorens Isbert?
---
If you still don't know where to take expired extinguishers for recycling and what types of extinguishers can be recycled, we leave you with the following information table according to the type of fire:
Water extinguisher, powder chemical extinguisher, foam extinguisher
Effective fire extinguishers against fires in solid materials such as plastic, paper, cardboard, textiles, wood…
Chemical powder fire extinguisher, foam extinguisher, CO2 extinguisher
Effective extinguishers against fires in flammable liquid materials such as paints, oil, petrol, gasoline…
Class C fire
Powder chemical extinguisher, CO2 extinguisher
Effective fire extinguishers against flammable gases such as natural gas, butane, propane, hydrogen…
Special dry chemical powder fire extinguisher
Effective extinguishers against fires in combustible metals such as aluminium, magnesium, titanium, sodium…
Potassium acetate fire extinguisher
Effective extinguishers against fires in cooking oils and fats…
Electrical fires
Powder chemical extinguisher, CO2 extinguisher, Halogenated extinguisher
Effective fire extinguishers for electronic / household appliances such as chargers, air conditioners, computers, electric cookers…